Solar lighting is becoming more prevalent in the modern world of business. Making the change can be challenging and may require some heavy initial investments for companies. If you're considering going green and investing in solar power, you can start with more minor changes or aim to convert as much as possible from the start.
Induction Lighting Fixtures is one of the leading suppliers of bulbs and fixtures for business and industrial use. Today, we want to show companies some of the top benefits of solar lighting for businesses that they can incorporate into their workplaces and determine if it's worth making the change.
Reducing Overhead Costs
Cutting the cost of your overhead is an essential part of keeping your business up and running. Utilities, especially electricity, come at a high price and typically make up a significant percentage of yearly expenses. However, switching to solar lighting allows companies to cut the cost of their electrical by up to 75 percent.
While lighting is one of the primary uses for electrical systems, solar panel systems work to lower the overhead cost of additional expenses like heating, cooling, and the electricity needed to operate any vital machinery or equipment throughout the day.
When you use a solar panel system to disconnect your business from the main grid, you gain a better understanding of what your monthly overhead cost is going to be from here onward. You rely less on power companies and reduce the risk of significant price spikes or inflation issues. Your electrical costs may fluctuate depending on what you add or take away from your system, but you create a more stable and static system that works to reduce your overhead as a whole.
Sustainable Lighting
One of the top benefits of solar lighting for businesses is that solar lighting is good for the environment and a sustainable option of which your company can take advantage. However, investing in electrical possibilities to get your company off the grid and onto other possible energy sources is always a gamble.
Many renewable options like wind or hydroelectric have potential but lack the longevity and sustainability of harnessing heat and warmth from the sun. By investing in solar energy, you're taking your company in a long-lasting and fully sustainable new direction to benefit you, your business, and your employees.
Good Public Image
Going green is good for more than your bottom line; it helps create a positive public perception of your company. Many consumers want to work with businesses that care about the planet and take steps toward being environmentally friendly.
Investing in solar lighting sends a message that you care about your business's effect on the Earth and how that can resonate with potential clients and other networking opportunities. Take the time to explain your company's stance on sustainable lighting and energy and why you feel strongly about making the conversion. While solar lighting can help cut your overhead costs and reduce the amount you spend, using your clean lighting fixtures to improve the positive public image of your company may help increase your yearly revenue with new clients and customers looking to partner with you.
Fewer Maintenance Issues
Another significant benefit of installing solar lighting is that after the initial installation, solar lighting is easier to maintain. You may still want to conduct regular checks to ensure everything is in working order. Still, a large percentage of keeping your solar lighting operating is ensuring your solar panels are clean and free of debris.
Modern electrical systems contain far more moving parts than you find in solar power systems, and those parts open more opportunities for mishaps that require repairing. Of course, solar lighting may still necessitate inspections and maintenance if something becomes disconnected. Still, it's a much more straightforward system that allows your business to spend less time and money on repairs and maintaining everything to keep it in working order.
Government Benefits
One of the common reasons you may hear that can deter you from making the transition to solar energy is how much of an investment it is and how the savings may not be worth it for several years after the initial cost. While a full system may require thousands of dollars of upfront cash, there are several federal government incentives for moving toward solar energy.
The federal government offers the ITC (Investment Tax Credit), which provides businesses with a 30 percent rebate on the initial investment cost, so a solar lighting system with an upfront cost of $15,000 will entitle business owners to a $4,500 tax credit for their system.
The Modified Accelerated Cost-Recovery System (MACRS) and Solar Renewable Energy Credits are other helpful government incentives for utilizing environmentally friendly systems. These federal programs allow businesses to start amassing valuable tax breaks on their systems and use solar lighting to start turning a profit faster than they would with non-energy-efficient equipment or systems.
Aside from federal government programs, many states or even local governments may offer additional assistance, tax cuts, or benefits for companies looking to invest in solar lighting. It may be a good idea to check for incentivizing programs or aid you may qualify for in your area.
Employee Safety
A notable benefit of solar lighting for your business is the inherent safety advantages that come with outdoor fixtures. Because solar lights are reliable, easy to maintain, and bright, they provide additional safety features in dark parking lots and other exterior areas.
Keeping the lights on for your nighttime or evening workers helps create a sense of trust between businesses and their workers. Proper interior and exterior solar lighting systems should be a top priority when creating your solar power system to keep your areas illuminated and comfortable for your workers.
If you're interested in commercial solar lighting and want to learn more about the fixtures and bulbs that work best for your business enterprise, Induction Lighting Fixtures has everything you need to get started. From a wide range of parts and equipment, helpful blogs, and a staff trained to address your questions, comments, and concerns, Induction Lighting Fixtures is here to light your way. Contact us today for more details.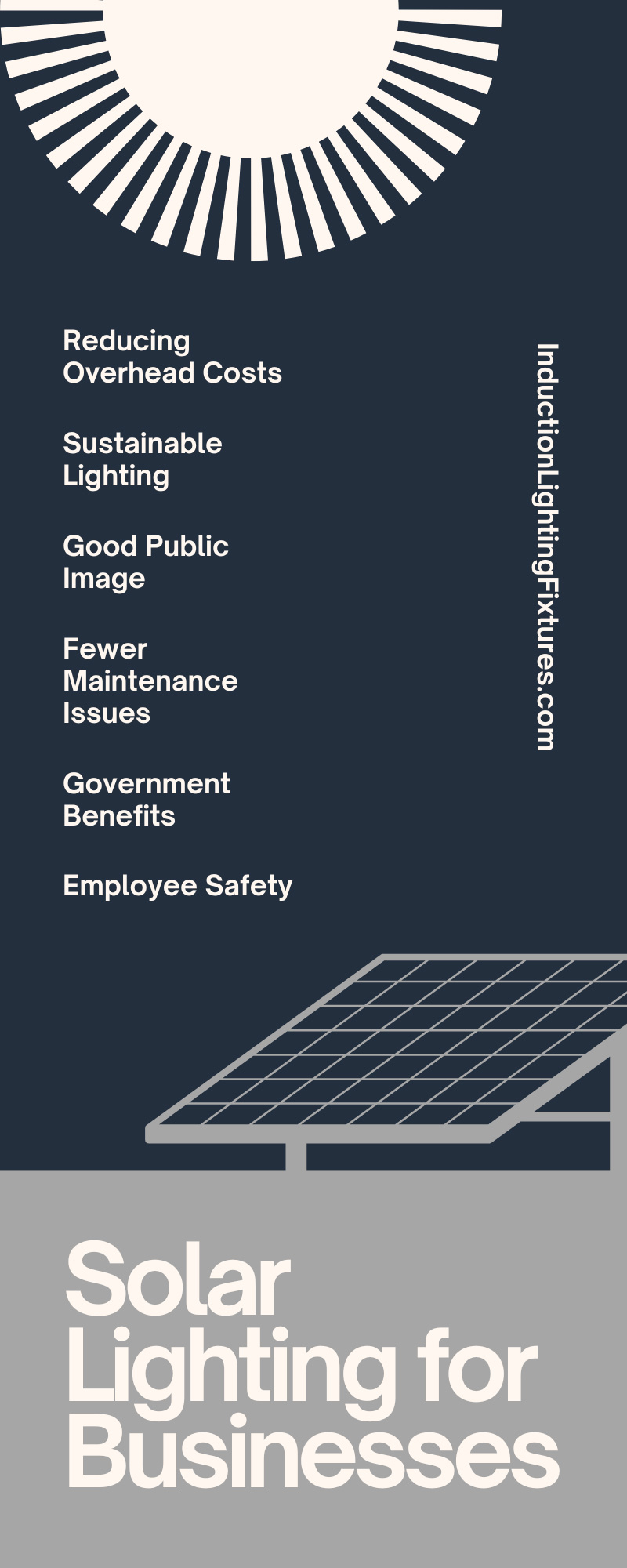 Recent Posts
Installing solar-powered streetlights has multiple advantages. You can set them up in remote areas a …

Outdoor solar lighting is a fantastic option for any business. Solar lights are long-lasting, low ma …

Many people have preconceived notions about how solar light fixtures work. They get it in their head …