When looking for outdoor lighting fixtures, there are many options available. Therefore, you'll need to consider what you want to focus on, such as power, longevity, brightness, or other valuable aspects. Whether you need tall fixtures to cast light over wide areas like parking lots or want motion-activated lights by the entrances and exits of your building, there are many factors to consider. From solar-powered lighting to halogen bulbs, here are the top ten types of outdoor lightbulbs and fixtures that are ideal for any and all places of business.
Best Corn Bulb—ICY LED Corn Bulb
The ICY corn bulb is an ideal option for those looking for a bulb that works outdoors, as well as inside for industrial usage. The bulb is 12 to 13 inches in size, comes in various wattages between 100 and 300, has a 120V or 480V variety, and offers color temp options ranging from 3000k to 5000k. The large E39 base makes it an ideal choice for bigger light fixtures, and the estimated lifespan of up to 50,000 hours makes it one of the best corn bulb choices.
Best Bulb for Business—PAR64 LED Bulb
The PAR64 bulb is an ideal LED lighting choice for outdoor fixtures and water options such as pools, fountains, and other similar water displays. One of the notable advantages of the PAR64 LED bulb is that, unlike many other LED options on the market, this bulb is compatible with dimmer switches, providing more control over the general brightness.
This LED option uses approximately 10 percent of the energy needed for halogen and incandescent bulbs and lasts around 30,000 hours. The color temperature ranges between 3000k and 6000k with RGB options, putting out 3700 lumens. This bulb is ideal for hospitality, and works to match the aesthetic of any business where people gather.
Best Amber Lighting—IC-AMB Amber LED Corn Light
Amber lighting works well for roadside lamps, emergency automobiles, and security lighting. The IC-AMB Amber LED corn light provides high-lumen amber lighting ideal for security vehicles and roadside perimeters. The IC-AMB ranges from 15 to 150 watts; the 15–80W range is available with the smaller E26 base, while the E39 base is available for all wattages.
One of the most notable advantages of the IC-AMB Amber light is that it's safe for turtles, reptiles, and other wildlife in the outdoor areas of your business. The bulbs are suitable for open fixtures and offer up to 70 percent energy savings compared to incandescent or halogen bulbs.
Best Floodlight Fixture—IL-MAL04
Of the top outdoor lightbulbs and fixtures, one of the best is the wall-mounted IL-MAL04 area light. This mounted fixture comes with a single-piece housing unit to contain the bulbs and provide clear, visible light. The IL-MAL04 also includes optional motion-sensitive devices and photocontrol to improve energy conservation.
The fixture comes in 120V and 480V options with wattage options ranging from 45W to 300W and color temperatures ranging from 4000k to 5000k. The IL-MAL04 is perfect for stadiums, parking lots, warehouses, airports, or any large structures in need of widespread wall-mounted lighting.
Best Walkway Fixture—LGA-PMC-100
Outdoor areas like parks or other places that see a lot of foot traffic often use shorter light sources to guide people or create a specific ambience. For businesses looking for a small but powerful fixture, the LGA-PMC-100 offers bright, environmentally friendly lighting; this option is ideal for casinos and other extravagant areas. This solar-powered fixture sports 3000k color temperature and may run up to three nights on a single eight-hour charge. The LGA-PMC-100 base comes with adjustable nuts giving business owners a chance to attach the fixture to taller or shorter poles to fit their individual needs.
Best Post-Top Fixture—ILPL4-6K
Areas looking for taller fixture options may want to consider the ILPL4-6K, which provides solar-powered lighting atop an 11.5-foot pole. This fixture is ideal for residential areas, parks, and other places looking for safe evening lighting. The modern design style of the ILPL4-6K allows it to blend nicely with any aesthetic, making it easier to incorporate into your outdoor place of business.
Best Wall-Mounted Fixture—IWH120
Malls, plazas, parking garages, and other areas in need of wall-mounted fixtures may want to consider the IWH120. This single unit offers a 5000k color temperature bulb protected by a polycarbonate prismatic lens. The simplistic cube structure makes this fixture easy to install and operate while requiring little maintenance throughout its 100,000-hour projected lifespan.
Best Cost-Effective Solar Fixture—LGF-1000-P
One of the common downsides of solar-powered lighting is the overall cost, but the LGF-1000-P offers top-quality, wall-mounted lighting fixtures at an affordable price. Operations looking for a 360-degree customizable beam angle with 5000k color temperature lighting may want to consider this fixture. The environmentally friendly design lasts for three nights on an eight-hour charge and provides the incandescent equivalent of 60–100 watts.
Best Bollard Light Fixture—ILBOFRLQ
Bollard lighting fixtures are becoming popular for providing atmospheric LED lighting in a more visually pleasing way than wall-mounted fixtures and taller top fixtures. Those looking for one of the top designs for Bollard light fixtures may want to consider the ILBOFRLQ model. This fixture provides high-lumen output with color temperatures ranging between 3000k and 6000k while boasting a visually appealing cone in the fixture to help spread out the light. These fixtures work best for garages and areas with heavier landscaping.
Best Spotlight Fixture—LSLR-400-L-5K
Providing ample lighting for large stadiums used for concerts or sporting events requires a lot of power and proper fixtures. Perhaps the best outdoor fixture for such a task is the LSLR-400-L-5K. This high-intensity spotlight ranges from 400 to 1200 watts and comes with a specialized array of LED bulbs designed for sporting events. The LSLR-400-L-5K is a fantastic option for energy conservation compared to other similarly powered spotlight fixtures and is easy to install.
Our selection of lighting fixtures comes in many strengths, shapes, and sizes to properly illuminate any outdoor region, from back alleys to open fields. Those searching for high-quality LED cob lightbulbs should check out all Induction Lighting Fixtures has to offer. Any businesses or individuals looking to enhance their outdoor area with top-quality bulbs and fixtures will find what they need. Feel free to contact us today if you have any questions, comments, or concerns for our educated specialists.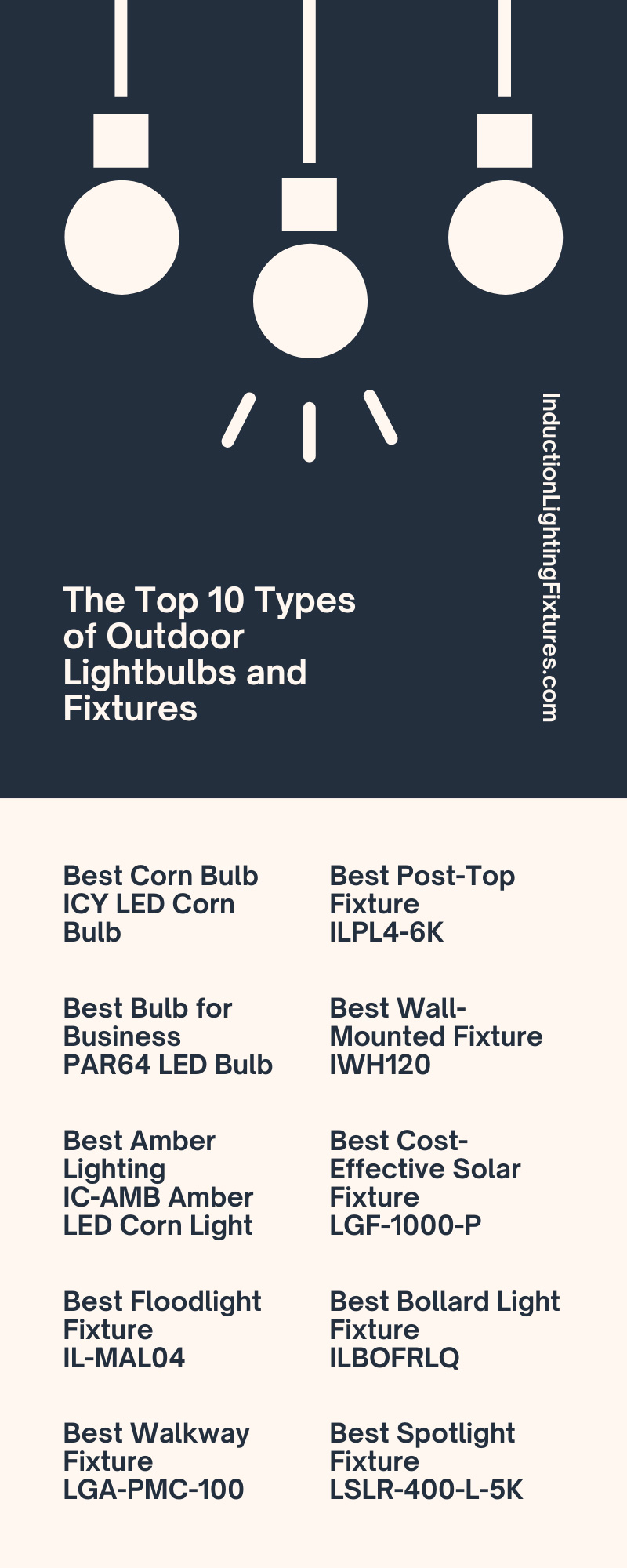 Recent Posts
Installing solar-powered streetlights has multiple advantages. You can set them up in remote areas a …

Outdoor solar lighting is a fantastic option for any business. Solar lights are long-lasting, low ma …

Many people have preconceived notions about how solar light fixtures work. They get it in their head …