Don't replace your halide builds with LEDs without this guide. Read about replacing a 400W metal halide and what it takes. While this may seem like a daunting task at first, you can use this guide to help you understand their lumens first and then make the switch with ease. Whether you have a parking lot, gym, shop, tennis courts in need of lighting, continue reading a learn how easy it is to make the switch. Enjoy improved light quality, color, and light life. It's worth your research and time to invest in LED lighting. When in doubt, contact an expert or professional to help you make the best decision and purchase.
Metric Measurement
Before you make the switch from halide to LED, it's crucial you have a solid understanding of a lumen. This isn't commonly understood because traditional light sources don't use this form of measurement metrics. The traditional light sources that use this metric include metal halides and HPSs. Essentially, light strength for traditional bulbs is measured based on wattage, while LEDs use the lumen metric. A lumen is the light measurement of the amount of light created by a light fixture or bulb. This is created when a light fixture takes electricity and converts it into light. Now, this is not the same as wattage. LEDs are much more proficient at creating light efficiently. Thus, you should replace your metal halides with LED lumens, and not with watts.
Specific Lumens
Let's dive a little deeper into different kinds of lumens. The two different kinds of lumens are photopic and scotopic lumens. Each of these classify different ways a light can be light metered. Photopic lumens are recorded with cameras or light meters. This is because they help capture what the naked eye cannot see.
On the other hand, scotopic lumens are visible to the naked eye. LED lights are fascinating because they only produce scotopic lumens, or visible lumens, to the naked eye. This is unlike metal halide lights that have photopic lumens. Lumen differentiation means LEDs can provide brighter lighting. In turn, this means they provide overall more visibility, even at the same lumen value as a metal halide light. This lumen differentiation is a core difference between halide and LED lights. It's also a core benefit of making the switch to LEDs.
Light Quality
The scale that's used to measure the quality of lumens is called Color Rendering Index, or CRI. The CRI measures the quality of light emitted by a light source. Essentially, it measures how closely the light resembles the sun. LEDs typically have a higher lumen CRI rating than metal halide fixtures. So, whenever you change your metal halide light fixtures with LEDS, choose LEDs with fewer lumens. LEDs with fewer lumens still appear brighter than a metal halide. For example, an LED light with 20,000 lumens would still appear brighter than a metal halide that produces 30,000 lumens.
Color Ratings
The color of a light bulb is measured in degrees—specifically, in Kelvin. While incandescent bulbs produce warm light, LED bulbs allow a wide range of colors. These colors range between 2700k, or warm tones, to 5000k, or cool tones. Follow the Light Kelvin Scale to decide what bulb you need.
2800K – Very Warm White
3000K – Warm White
3500K – White
4000K – Cool White
5000K - Daylight
6500K – Natural Daylight
Light Reflection
Reflection is a factor that plays an important role in the right lumen amount for a 400-watt metal halide LED replacement. Directional lighting is in an LED light, which means their lumens fall on a preset point. Unlike a halide, they don't need a reflector to deliver rays at a fixed point. On the other hand, traditional lights have what is called omnidirectional lighting. They need reflectors to focus their light. Within the process of reflecting, lumens get lost along the way. This loss can be up to 30% lumens. If a metal halide had thirty thousand lumens, the reflection would cause the output to be twenty-one thousand lumens.
Watts and Lumens Guide
Partner the following information with this guide. Change your halide lighting to LED lighting with confidence:
| | | | | |
| --- | --- | --- | --- | --- |
| Shop Lighting | 120-Watt UFO LED, High Bay | 18000 Lumens | 5000K | 100V-277V |
| Flood Lighting | 200-Watt LED Area, Flood Light | 28000 Lumens | 5000K | 100V-277V |
| | 200-Watt LED Area, Flood Light | 28000 Lumens | 5000K | 277V-480V |
| Shoebox Parking | 150-Watt LED | 24000 Lumens | 5000K | 100V-277V |
| Wall Pack Lighting | 120-Watt LED | 16000 Lumens | 5000K | 100V-277V |
| | 150-Watt LED | 19500 Lumens | 5000K | 100V-277V |
| | 150-Watt LED | 24000 Lumens | 5000K | 277V-480V |
Manufacturer
Many lighting and bulb companies have switched to LED light manufacturing to keep up with the demand for them. Light quality can vary between manufacturers, as with any market. Search for quality LED lights at a competitive price. Investigate if maintenance service is provided as well. Do your research and ensure you are getting the best bang for your buck. Compare prices so that you don't have to endure a financial loss in the process.
Light Life
You might be looking to replace your halide lights with LEDs because of their well-researched light life. If you had a halide bulb that produced thirty thousand lumens, it would lose 50% lumens at half-life and would last only 15,000 hours. Essentially, this light would lose 15 of those lumens by the time it completes 7500 hours. Luckily, LEDs don't lose their brightness or quality as rapidly.
Plan for when you will have to change these lightbulbs, which will be less often. Enjoy having more change in your pocket. In the meantime, plan your budget accordingly.
Use this guide to replacing a 400W metal halide and what it takes to point you in the right direction for a future purchase. There's no need to feel overwhelmed by a switch to LEDs. Of course, there is no shame in contacting a professional who can help you make the most logical decision. Whether it's for a parking lot, gym, retail store, or sports complex, LEDs are a wise choice to make. Use the information above to build your confidence and knowledge for when you make the switch.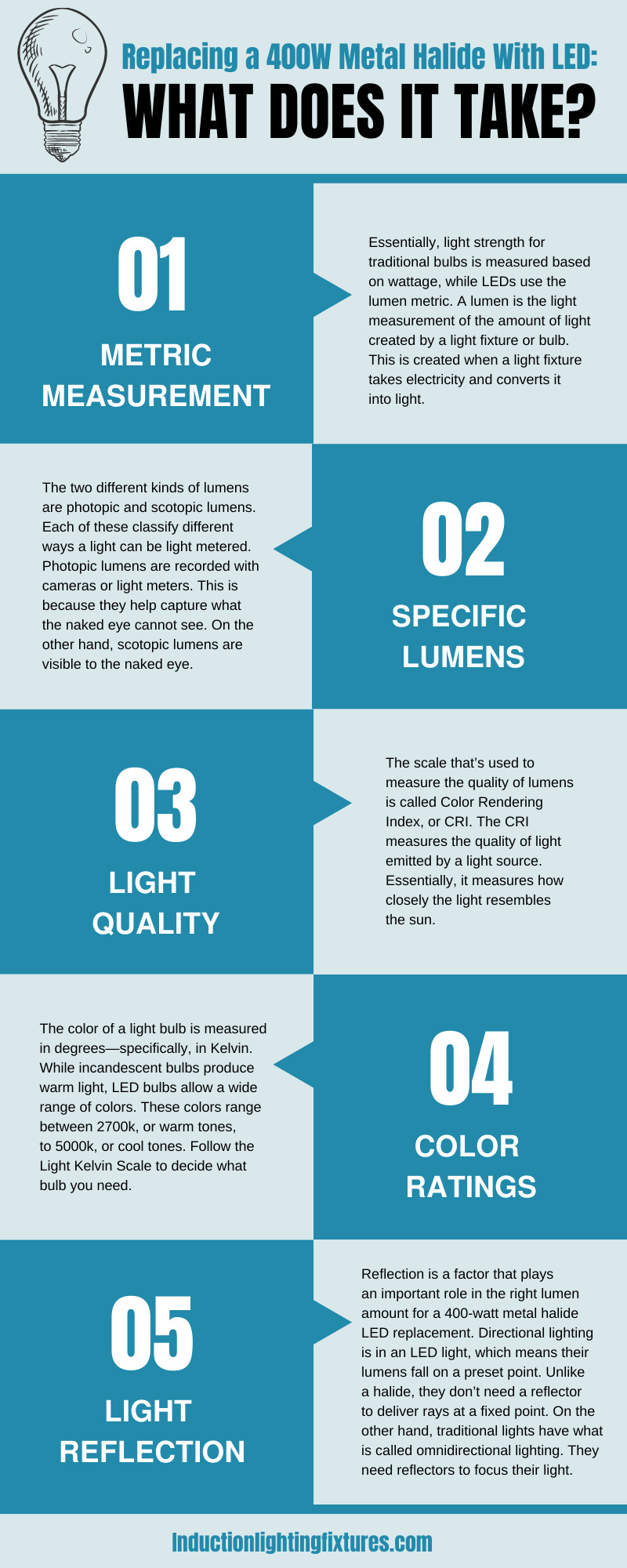 Recent Posts
Ensuring the safety and security of commercial properties is a top priority for businesses, companie …

Warehouse safety should always be a top priority. One often overlooked yet essential aspect of safet …

As a landlord, you're always looking for ways to improve your property investments while keeping exp …